Durable Touch Terminal/Human Machine Interface (HMI)
Secure – Runs Android or Linux
Customisable – Made in Cape Town
Stainless Steel Android Touch Computer, proven on the factory floor
South Africa's Food Industry needed a reliable and affordable Android based touch computer, impervious to dust and resilient to theft. BigDroid was born and remains the best locally manufactured Human Machine Interface in South Africa. Clad in durable and easy to clean 316 Stainless Steel, BigDroid is built to be deployed in Food and Beverage, Chemical, Plastics factories as well as Public Self service Kiosks, Transport ticketing systems, Supermarket checkouts, Butcheries, Point of Sale, Staff Internet Terminals etc.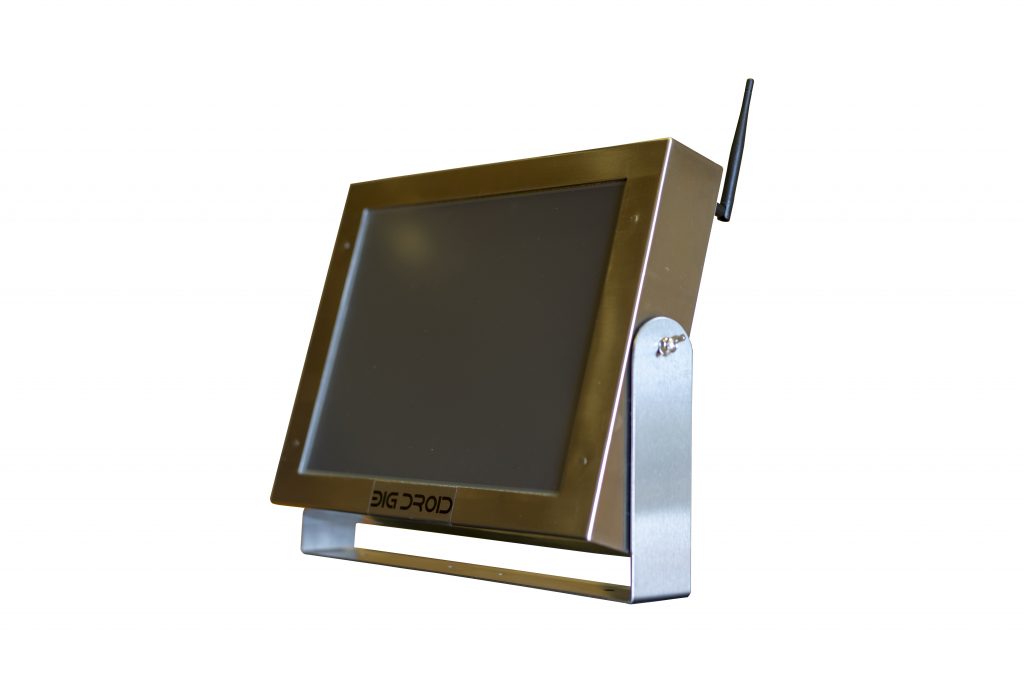 What does BIGDROID Offer?
Complete touch computer with 15inch resistive touch screen, can be used with gloves.

Application lockdown mode so BIGdroid runs only one app.

OS Lockdown option prevents users from changing settings or installing apps.

Firmware can be branded to client specifications.

Securely mounts to desks, walls or poles with the integrated swivel bracket.

Fanless, durable, secure stainless steel casing can be deployed in dusty or moist environments.

Reliable Android or Linux OS built for 24/7 operation.

Hardware/Firmware Customisable to client specifications on MoQ 20pcs.

Durable and mature – Trusted for production use since 2017.

Proudly made in Cape Town. 12 Month Warranty.

Extended, Swopout and Onsite warranties available.

Repair service for out of warranty units.
Features & Specifications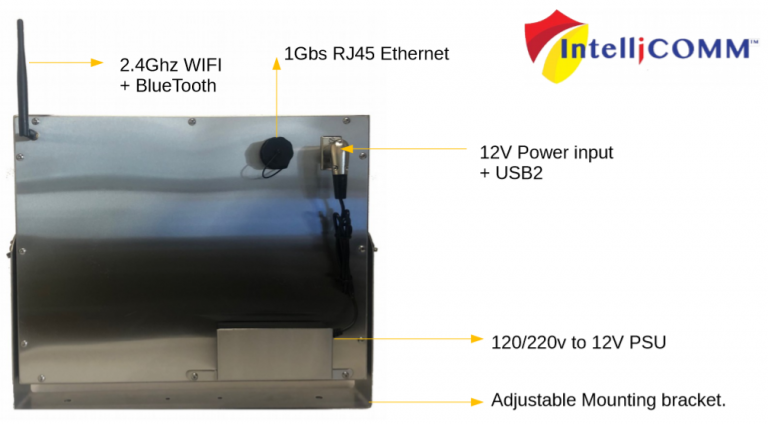 CPU: Allwinner A83T ARM Cortex-A7 Octa-Core 1.8 GHz

RAM: 2Gig RAM

STORAGE: 8Gb mmc storage (Expandable via SDCARD)

SCREEN: 15" Resistive Touch screen with 250cd/m² brightness (internal control panel for setting)

Resolution: 1 024 (H) x 768 (V), Durability: 35 million touches

NETWORK:

External 10/100/1000 Mbit/s Ethernet, RJ45

Wi-Fi 802.11 b/g/n 2.4Ghz, 4Dbi external antenna included

Bluetooth 4.0

PORTS: USB2

POWER: 120v/220v AC or 12v 4a DC

OPERATING SYSTEM : Android 5.1 / Linux 3.4 kernel or Ubuntu/Linaro 12/14. OS source code available.

Dimensions: 38cm Length x 29cm Height x 6cm width

WEIGHT: 5.8Kgs

OPTIONAL: External RS232/485 via USB bridge, External Modbus, USB2 + USB-OTG, 8 GPIO, 4 PWM Outputs, 4 Analogue Inputs, 3G/LTE Connectivity, Audio Out, Mic In, Motion Detection