The most agile ERP on the planet
We provide comprehensive solutions that can streamline your operations, boost productivity, and help you stay ahead of the competition.


Advantages of Having ERPNext
Streamlined Operations: ERPNext integrates all your business processes into a single system, providing you with a centralized platform to manage everything from sales and inventory to finance and human resources. This streamlines your operations, reduces data duplication, and eliminates the need for multiple disparate systems.
Improved Efficiency: With ERPNext, you can automate repetitive tasks, such as invoicing, procurement, and reporting. This not only saves time but also reduces the chances of errors, leading to improved overall efficiency in your business processes.
Real-time Insights: Make data-driven decisions with ease using ERPNext's advanced reporting and analytics features. Access real-time insights into your company's performance, sales trends, inventory levels, and more, empowering you to make informed choices for your business growth.
Enhanced Collaboration: ERPNext fosters collaboration across departments by enabling seamless communication and data sharing. This promotes better teamwork, improves communication, and ensures everyone is on the same page.
Cost Savings: By optimizing processes, reducing manual work, and minimizing errors, ERPNext can lead to significant cost savings over time, making it a valuable investment for businesses of all sizes.
Advantages of Having a CRM System
Customer Relationship Management: A CRM system like ERPNext's integrated CRM module helps you build and nurture strong relationships with your customers. It allows you to track interactions, store contact details, and manage customer feedback effectively.
Sales and Lead Management: With a CRM system, you can streamline your sales pipeline, track leads, and manage sales opportunities more efficiently. Automated lead nurturing and follow-up reminders ensure you never miss a potential customer.
Personalized Marketing: CRM systems enable personalized marketing campaigns by segmenting customers based on their preferences, purchase history, and behavior. This targeted approach increases the chances of conversion and customer satisfaction.
Improved Customer Service: Access to a 360-degree view of your customers' interactions helps your support team deliver better customer service. Quick access to past communications and issues allows for a more personalized and effective support experience.
Sales Performance Analysis: CRM systems provide insights into sales team performance, helping you identify strengths and weaknesses. By analyzing sales data, you can implement strategies to boost sales and drive growth.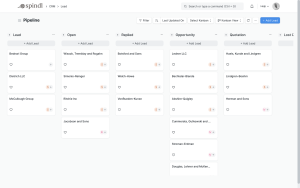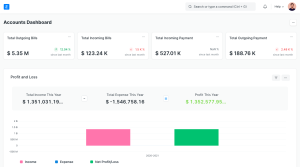 Integrate the power of ERPNext and CRM System to take your business to new heights. Experience streamlined operations, improved efficiency, and better customer relationships, all in one comprehensive solution. Invest in ERPNext with CRM now and transform the way you do business.
Accounting
Get a real time view of your cash flow. Full fledged accounting module covering every aspect of book keeping
HR & Payroll
Manage full employee life cycle right from on-boarding, payroll, attendance, expense claims, assets to separation.
Manufacturing
Effectively maintain and manage multilevel bill of materials, production planning, job cards & inventory.
Sales & Purchase
Increase productivity and lower costs by managing your sales and purchase cycles, from purchase to sales orders
CRM
Win and retain more customers by optimising sales process. Track leads, opportunities and send the quotes on the go.
Projects
Deliver both internal and external projects on time, budget and profitability. Track tasks, timesheets and issues by project.
Helpdesk
Deliver a better service experience with an intuitive issue tracker and integrated knowledge base.
Asset Management
Maintain and Manage details of assets, their movement, value adjustment and depreciation.
Website
ERPNext comes with a fully featured content management with blogs, web pages and forms.
Contact us and Unlock the Power of Efficiency!